Community Care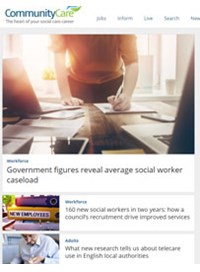 The Community Care group is at the heart of your social care career. We offer a selection of products that work together to give social care professionals constant support in the ever-changing social care sector
Communitycare.co.uk
Community Care Inform Children
Community Care Inform Adults
Community Care Jobs
Community Care Live
Our products:
Communitycare.co.uk delivers news and analysis direct to your inbox to help you keep up to date with the latest developments in social care.
Community Care Inform is an online resource for employers, enabling social care professionals working with Children or Adults to make robust, evidence-based decisions. It is a key tool to help you achieve consistent high quality social work practice and ensure social work teams are making confident, legally compliant decisions
Community Care Jobs is your online source for the best social care jobs and candidates. Jobseekers can search and apply online for the latest social care jobs. We also work in partnership with social care employers helping to recruit the right social care candidates.
Community Care Live is the UK's largest free event for the social work sector. It provides essential learning and professional development through a mixture of training sessions, panel discussions, case studies and interactive learning. Attendees can also benefit from our exhibition where they can meet and network with a range of local authorities and service providers in the sector.'