Rhianna Price wins Exhibition News 30 Under 30 award
Aug 04, 2021
We are very proud of our people, we know how talented they all are and they are what makes us a successful Company.  We are especially pleased when our brands and people are recognised externally confirming what we already knew.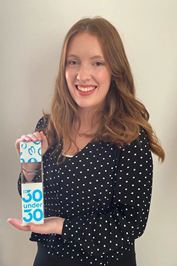 So, it's with pride that we announce that Rhianna Price, Marketing Manager in MA Exhibitions as a winner in the prestigious Exhibition News, 30 Under 30 awards.  These awards were launched in 2014 to celebrate the very best young talent working in the exhibition industry. The event allows the leaders of tomorrow to gain recognition from outside their peer group and colleagues and receive an official industry seal of approval for their hard work and achievements.
The judges commented
"Rhianna is the ultimate in can-do and her growth at MA Exhibitions has been exponential. Rhianna works tirelessly to ensure every task she is responsible for is executed to the highest quality. Working in conjunction with several different departments in her current position her ability to collaborate various responsibilities with her in depth knowledge of the variety of sectors she works in has made her a go-to member for the wider team that will always deliver.
Tim Willoughby MD of MA Exhibitions commented - Rhi is an exceptional marketer and we couldn't be prouder for her.  Rhi was hired through our prestigious graduate scheme in 2017 and has gone from strength to strength.  I have the privilege of working directly with Rhi on a number of our large expos, and I can say with absolute confidence this award is truly deserved.  By bringing fresh thinking, creatively challenging the status quo, and taking a metric led approach, Rhi delivers continual improvement across all the products she is working on. MA Exhibitions is certainly a better business with Rhi in it."