Journal Of Kidney Care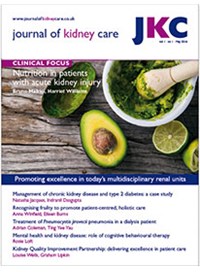 Journal of Kidney Care (formerly Journal of Renal Nursing) is a new bi-monthly multidisciplinary clinical journal, launched in May 2009, for nurses and allied health professionals working in renal care.
The journal aims to promote excellence in clinical practice and provides up-to-date, accessible, practical and visually stimulating information, written by experts and peer-reviewed by leading authorities in the field. As well as clinical practice in fields such as chronic kidney disease, dialysis, transplantation, the journal covers professional development and management, education, and innovations and developments in patient care.
Frequency
6 issues per year