British Journal Of Midwifery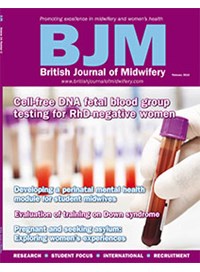 British Journal of Midwifery (BJM) is the leading clinical journal for midwives. Published each month, the journal is written by midwives for midwives and peer reviewed by some of the foremost authorities in the profession.
BJM is essential reading for all midwives. It contains the best clinical reviews, original research and evidence-based articles available, and ensures that midwives are kept fully up-to-date with the latest developments taking place in clinical practice.
BJM covers all aspects of midwifery in a way which is clear, easy-to-read and useful to daily practice. The journal is relevant at every stage of a midwife's career, and offers beneficial rates for students.
The journal is indexed on Scopus.
Frequency
12 issues per year