British Journal Of Hospital Medicine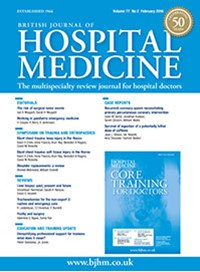 British Journal of Hospital Medicine was established in 1966, and is still true to its origins: a monthly, peer-reviewed, multidisciplinary review journal for hospital doctors and doctors in training.
The journal publishes an authoritative mix of clinical reviews, education and training updates, quality improvement projects and case reports, and book reviews from recognized leaders in the profession. The Core Training for Doctors section provides clinical information in an easily accessible format for doctors in training.
British Journal of Hospital Medicine is an invaluable resource for hospital doctors at all stages of their career.
The journal is indexed on Medline, CINAHL, the Sociedad Iberoamericana de Información Científica and Scopus.
Frequency
12 issues per year