Heating & Plumbing Monthly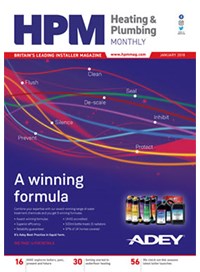 Heating & Plumbing Monthly is a must-read magazine in the heating and plumbing sector. Its circulation is heavily weighted towards Installers whose workload is comprised of domestic and light commercial installations, essential merchants and leading UK specifiers.
Ongoing qualification of new and existing readers who fit the profile of the publication ensures the circulation is maintained at the highest possible quality. We know the exact demographic profile of every reader and strict verification procedures are enforced to meet the demands of the Audit Bureau of Circulation (ABC) who independently endorse our circulation claims. Continuous investment guarantees a quality circulation offering advertisers the strongest possible medium for creating brand and product awareness.
Frequency
12 issues per year