The Veterinary Nurse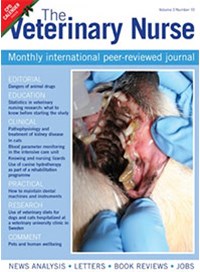 Launched in October 2010, The Veterinary Nurse is a new clinical, professional and educational journal for veterinary nurses around the world. Publishing high quality, peer-reviewed content on a full range of areas relevant to veterinary nurses, from clinical issues and pharmacology, to management and professional issues, the journal will also provide nurses with an opportunity to develop and disseminate their own research.
Written by veterinary nurses for veterinary nurses, The Veterinary Nurse will provide an opportunity for veterinary nurses around the world to discuss issues relevant to them, while learning directly from one another.
Frequency
12 issues per year