International Paramedic Practice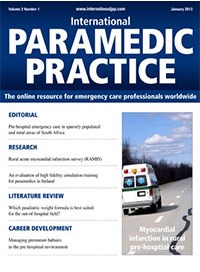 International Paramedic Practice (IPP) is a new quarterly journal dedicated to addressing the clinical and professional issues relevant to paramedics and professionals in the prehospital field.
The aim of IPP is to provide all those with an interest in prehospital emergency care with essential information to help them deliver the best possible care and support for their patients. Each issue contains an unparalleled range of peer-reviewed clinical, professional and educational articles.
The journal has a strong international focus. It is represented by an eminent international editorial board and articles are commissioned internationally to encourage the sharing of practices and innovations worldwide, and to raise awareness of the different cultural influences in prehospital emergency care.
Frequency
4 issues per year