International Journal Of Palliative Nursing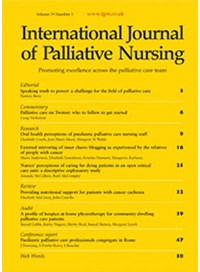 Since its launch in 1995, International Journal of Palliative Nursing has been committed to promoting excellence in palliative and hospice care. It is now established as the leading journal for nurses working in this most demanding profession.
The journal has a strong international focus. It is represented by an eminent international editorial board and articles are commissioned internationally to encourage the sharing of practices and innovations worldwide, and to raise awareness of the different cultural influences on palliative care.
The Journal is indexed on Medline and Scopus.
Frequency
12 issues per year