Equine Health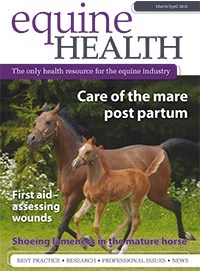 Equine Health is a new health resource dedicated exclusively to all those involved in the equine industry. Every other month Equine Health will bring you the latest research, professional issues and product information. From best practice tips and practical support and advice, to promoting the industry and improving equine welfare, Equine Health is the must-have publication for veterinary surgeons, grooms, farriers, physiotherapists, equine dental technicians, breeders, professional riders and students.
Equine Health will provide accessible in-depth features on every aspect of horse health: anatomy and physiology, common and exotic health issues, nutrition, foot care, dental care, new and established treatments.
Equine Health is edited by Chris Keate, former editor of Horse Health, who has a deep love and understanding of horses and the issues that affect their health and wellbeing.
Frequency
6 issues per year