British Journal Of Nursing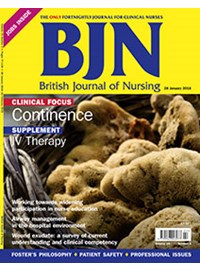 British Journal of Nursing is MA Healthcare's flagship nursing title. Since 1992, it has established a first-class reputation as being the choice for nurses who wish to keep fully abreast of all the latest developments in clinical and practice-based nursing.
The foundation of BJN is its clinical and evidence-based papers, which provide practical recommendations based on sound and up-to-date theoretical knowledge. All articles are written by nurses and subject to peer review by leading authorities in the profession, ensuring that only the best clinical papers and original research appear in the journal.
The journal is indexed on Medline and Scopus.
Frequency
22 issues per year