British Journal Of Neuroscience Nursing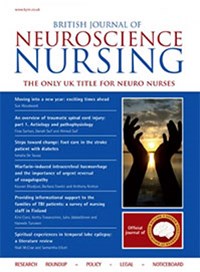 British Journal of Neuroscience Nursing is the only journal in the UK dedicated to neuroscience nursing. It is essential reading for nurses involved in this important area of nursing, with its leading clinical coverage and professional focus.
The journal addresses all aspects of neuroscience nursing in an intelligent and accessible way. It reflects the richness and diversity of contemporary practice, covering areas ranging from neurosurgery and critical care to neurological conditions such as multiple sclerosis, Parkinson's, stroke and epilepsy.
Frequency
6 issues per year