British Journal Of Mental Health Nursing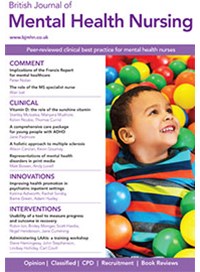 British Journal of Mental Health Nursing (BJMHN) is a quarterly journal created for mental health professionals that delivers analysis, commentary and clinical reviews on topics central to the practice of mental health nursing.
BJMHN promotes excellence across the full spectrum of mental health nursing, including areas such as CAMHS, forensic, hospital and community nursing in both the NHS and independent sectors.
BJMHN is your key resource for providing evidence-based care in mental health practice.
Frequency
4 issues per year