British Journal Of Healthcare Assistants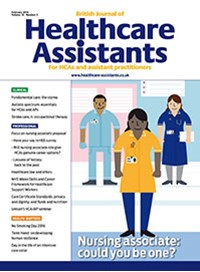 British Journal of Healthcare Assistants is unique. It is the only professional journal for HCAs and assistant practitioners, providing education and support to a growing sector of the health service.
Each issue contains a range of evidence-based articles providing positive examples of good practice in areas as diverse as infection prevention, phlebology, continence and nutrition support. Every issue highlights learning outcomes to support practitioners' on-going training and to help extend their knowledge and skills in practice. The journal also highlights the diversity of career paths available to HCAs, and provides analysis of the impact of changing policy on this important groups of health workers.
Frequency
12 issues per year