British Journal Of Community Nursing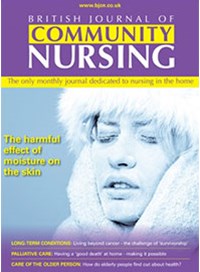 British Journal of Community Nursing is the UK's leading peer-reviewed journal for district nurses, containing the most up-to-date clinical coverage and research on primary care nursing.
The Journal promotes excellence in clinical practice with an emphasis on the sharing of expertise and innovation in district nursing. Articles are written by nurses from across the community nursing spectrum, and peer-reviewed by leading authorities in primary care to make sure that the journal addresses all aspects of the profession in a way that is relevant and useful in daily practice.
The journal is indexed on Medline and Scopus.
Frequency
12 issues per year