Print Week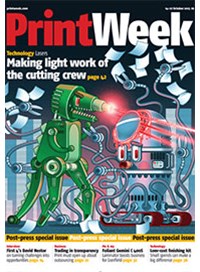 PrintWeek is the highest-circulating and most widely read printing industry title in the UK, providing a true cross-section of the industry.
PrintWeek is sent to more than 8,500 printing professionals, ranging from small and medium enterprises to the largest and most influential printing companies in the UK.
It has an unrivalled reputation for the best stories in printing and associated sectors, including paper and pre-media.
It provides key decision-makers with more news about contracts, plant and technology than any other title. Equally it is recognised for its incisive comment on key industry issues, as well as informative and entertaining features. PrintWeek is also invaluable for classified recruitment and equipment advertising.
Printweek.com is the premier website for the print industry. An indispensable hub for anyone working in or connected with print, the site brings you up-to-the-minute news, in-depth analysis and comment and features covering all aspects of the print sector in the UK and across the globe.
Averaging more than half a million page views read by in excess of 100,000 readers each month, it dominates its market, accounting for around 85% of the market among its peers according to HitWise.
Frequency
22 issues per year