New Electronics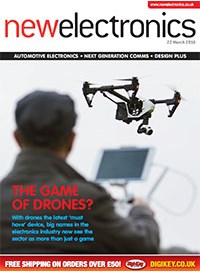 Every issue of New Electronics has a mix of regular sections, whose targeted content provides electronic design engineers with a practical, applicable information resource in an exciting and compelling format. This content is written by a highly experienced team of journalists, including qualified engineers with exceptional expertise and a passion for their subject.
Its thoroughly researched circulation of electronic design engineers, managers and directors targets its readers more accurately than any other service provider in the sector; it reaches readers with the budgets and authority to spend.
New Electronics is the leading publication for electronic design engineers. If you are trying to reach this key group of decision makers, then New Electronics is your 'must have' partner. If your plans incorporate display advertising, more complicated projects such as gatefold covers or bellybands, or if you require assistance in design, writing and layout of advertorial, New Electronics has the options to suit your marketing strategy and your budget.
With New Electronics' editorial experience, brand strength and its fortnightly circulation of more than 16,000 key decision makers, no one understands the sector better or is in a better position to help you fulfil your company's marketing aims.
Frequency
22 issues per year