Machinery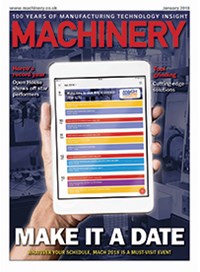 Machinery's thoroughly researched circulation of production engineers, managers, directors and subcontractors targets its readers more accurately than any other service provider in the sector; it reaches readers with the budgets and authority to spend.
For more than 100 years, Machinery has been regarded as the voice of the industry and has maintained its market leading status. Each issue is filled with original content and exclusive stories written and edited by Machinery's Group Editor Andrew Allcock – a qualified production engineer.
With Machinery's editorial experience, brand strength and a monthly circulation of 15,000 key decision makers, no one understands the sector better, or is in a better position to help you fulfil your company's marketing aims.
For building brand recognition, reputation and delivering ROI, there's no better choice.
Frequency
12 issues per year