Business Jet Interiors International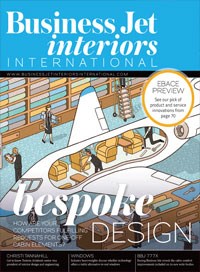 There are many magazines that cover the jet set lifestyle but only one that is dedicated to the design and completion of business jet cabins. Launched in 2007, Business Jet Interiors International is established as the industry's definitive resource for the latest design ideas, technological advances and discussion of key challenges.
As well as the newest OEM aircraft launches and conceptual designs, the magazine offers insightful interviews with leading figures and analysis of emerging trends. It shines a light into the private world of VIP completions and refurbishments – exploring the technical challenges involved in crafting and certifying everything from seating to lighting, cabin management systems, IFE and communications equipment, soft materials, cabinetry, flooring, galleys and lavatories.
Business Jet Interiors International is distributed to a targeted global database of decision makers at corporate fleet and private charter operators, as well as independent owners, completion centres, design houses and aircraft manufacturers.
Frequency
4 issues per year