Aircraft Interiors International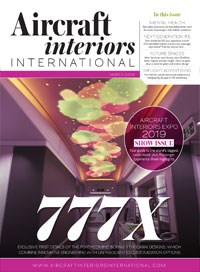 Aircraft Interiors International enjoys a position as the premier publication covering the fast-moving and fascinating passenger experience industry – a market projected to grow to more than US$40 billion by 2025. The brand includes quarterly magazines, an annual design showcase, a website and weekly e-newsletters, all of which are essential reading. Regular content includes expert interviews and insights that highlight and tackle industry issues, the latest world news, airline and product reviews, case studies, and market trends analyses.
Aircraft Interiors International is equally popular with advertisers as it consistently generates strong sales leads – indeed it continues to be the main advertising platform for suppliers of products and services to the cabin industry, as well as suppliers to the wider passenger experience.
Aircraft Interiors International has been at the heart of the industry for more than 20 years, with strong links forged through its close relationship with Aircraft Interiors Expo and other leading global events, as well as through its support of initiatives such as the Crystal Cabin Awards.
Frequency
5 issues per year