Carriage Driving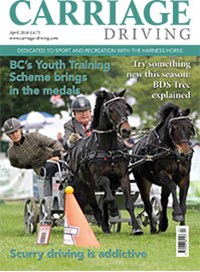 Carriage Driving is the only magazine entirely devoted to sport and recreation with the harness horse. It covers all aspects of the sport from private driving to horse driving trials. Carriage Driving has the latest news, advice and tips as well as an extensive classified section which is a great place to buy and sell anything - from harnesses to horses.
From the October 2011 issue, Carriage Driving has been given a fresh new look following a redesign that also sees the inclusion of new columns and a bigger training section alongside the familiar features like 'Coaching Chatter' and 'Over the Tandem Bar'.
Carriage Driving is available on subscription or through all good newsagents.