Children & Young People Now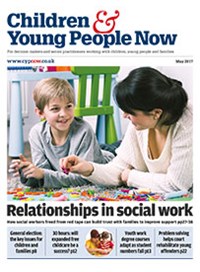 The Children & Young People Now (CYP Now) brand consists of a monthly magazine for leaders and senior practitioners across children's and young people's services; a news-led and resource-rich website supported by daily and weekly email news bulletins; the flagship national awards scheme for children's services; a number of conferences for professionals working with children, young people and families and www.cypnowjobs.co.uk, the jobs board dedicated to recruitment in the children's care sector.
The CYP Now audience includes commissioners of children's services in local authorities, chief executives of children's charities, local authority heads of children's social care, safeguarding, early years, SEN and youth services and senior managers.
Our readers use CYP Now as the primary source of information on the sector and as a research tool to improve the outcomes of children, young people and their families. CYP Now brings readers up to speed with the latest policy, research, thought leadership and good practice and delivers breaking news via the www.cypnow.co.uk website.
Frequency
12 issues per year